Your ultimate travel companion
Whether at home or abroad, MILES makes adventures on-the-go a breeze with its super lightweight design and one-second fold.
Includes free accessories
What's in the box?
For the MILES
stroller frame + seat + wheels + basket
seat liner
belly bar
harness covers
for home or away
engineered to be easy
Whether it's a quick trip to the local shops, wandering through hawkers markets in Hong Kong or exploring Central Park in New York, MILES has been engineered to make travelling with your little one easy no matter where in the world you are. Our compact, lightweight travel stroller is designed to go the distance, featuring a one second fold and weighing only 6.9kg. MILES really is perfect for everyday use and adventures on-the-go.
One second fold
Get where you're going faster with our ergonomically designed fold that only requires one hand, one movement, and one second. Our free standing and compact fold also makes for super easy storage.
Lighter than air
The 6.9kg weight combined with a super compact fold makes MILES easy to pop in the car for a road trip or take with you overseas. MILES makes travel with your little one a breeze, giving you more time to enjoy your next family adventure.
Newborn to toddler
Designed to go the distance
Designed to grow with your child from birth, unlike other travel strollers MILES boasts an extra tall seat-back to ensure comfort for years!
As your child develops, the ergonomic seat is designed with comfort at its core with infinite recline positions and can accommodate a newborn up to 22kg.
Large, easy-access basket
Clever storage solutions
No need to leave your essentials behind with a generously sized storage basket that's larger than most and easily accessible. Take everything you need for your next adventure and rest assured you're well-prepared for life with bub on-the-go.
Ultimate comfort
GOTS Certified organic cotton
You want only the best for your baby and so do we! Which is why every MILES comes with a free hand washable, reversible seat liner with GOTS certified organic cotton on one side and black, melange seat fabric on the other.
Quality materials, built to last
World class design
Backed by our 3-year warranty, MILES has been engineered to be long lasting and take your family on many adventures. Our high quality materials are safe, sturdy and designed to keep your little one cosy and comfortable while they're out exploring the world.
smarter design features
carry strap for easy transport
ultra-lightweight at 6.9kg
fully-flat recline
compact, free-standing fold
infinite one-hand recline
extendable canopy
adjustable leg rest
innovative, adjustable harness system
Want more?
Our collection of accessories are designed to keep you strolling, wherever your travels may take you.
test drive a miles today
Buy with confidence with free returns. Set your new MILES up and test-drive it at home. If it's not the perfect pram for you, simply box it up & send it back, no questions asked.
Learn More
Product Dimensions & Information
Dimensions
Folded: 47 x 35 x 55cm
Frame width: 45.9cm
Seat back height: 45cm
Seat width: 33cm
Seat depth: 21.5cm
Seat height from ground: 47.5cm
Weights
Stroller: 6.9kg
Designed to grow with your child from birth, MILES is suitable for a newborn to the average Australian 5-year-old, up to 22kg in weight and complies with all Australian Safety Standards.
Stroller seat limit: 22kg
Basket limit: 5kg
High-tech aeroglide wheels provide extra cushioning without the punctures or maintenance required by air-tyres.
360-degree front swivel wheels allow a perfect turning circle and effortless manoeuvrability.
4-wheel suspension adds additional cushioning to uneven ground.
Stroller frame + seat + wheels + basket
Seat liner
Belly bar
Harness covers
Carry strap
Download a pdf of the MILES manual:
frequently asked questions
Can't find what you're looking for? Our team are ready to help! Contact us here
Absolutely! The MILES seat reclines flat making it perfectly safe for precious newborns. Fully recline the seat, buckle them in the harness and you're ready to travel with your newborn without any attachments required.
Bonus: With its extra tall seat, MILES is designed to grow with your child from newborn to toddler and can accommodate up to 22kg.
MILES is super compact, with the stroller frame, seat, canopy, wheels and basket weighing only 6.9kg!
Most carriers will allow it, however we recommend checking with your specific airline at the check-in desk as they each have different requirements for carry-on luggage.
Note: Damage incurred to your MILES stroller as a result of airline travel is not covered by our warranty. We recommend checking if your airline covers any potential damage incurred.
MILES is backed by our three-year warranty.

Seat: Durable, melange, polyester selected specifically to hide the dirt.
Seat Liner: GOTS certified organic cotton on one side and melange seat fabric on the other.
Basket: Super durable 600D polyester.
Leatherette: High-grade, vegan, PU.
Each production of our organic cotton fabric is Global Organic Textile Standard (GOTS) certified. GOTS is the world's leading textile processing standard when it comes to organic fibres. It defines high-level environmental criteria along the entire organic textiles supply chain and requires compliance with social criteria.
Your MILES stroller comes with the following:
Stroller frame + canopy + seat + wheels + basket
Organic cotton seat liner
Belly bar
Harness covers
Carry strap
You can purchase additional accessories for your MILES including:
Rain cover
Snug pouch (winter sleeping bag)
Lambswool seat liner
We offer a 9-month free returns policy. This allows you to buy with confidence, and set up and test drive your MILES in the comfort of your home. If it's not the right fit for your family send it back to us, no questions asked. Learn more about our returns policy here.
Orders are dispatched from our Melbourne-based warehouse within 1-2 business days. Once shipped, you will receive a tracking number for Australia Post allowing you to keep up to date with your parcel's whereabouts. We use the Parcel Post service, for current delivery estimates click here.

miles virtual demonstration
Watch a MILES demo now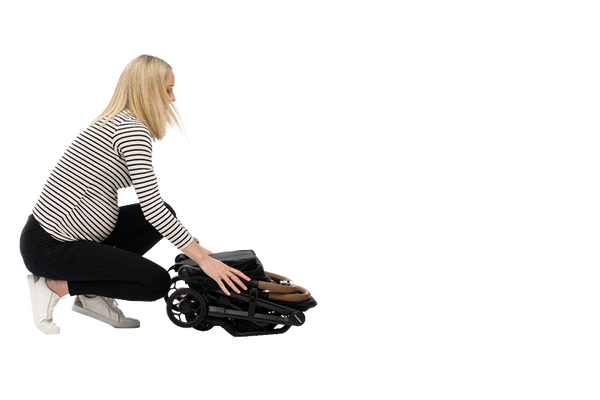 Australia's favourite award winning prams.
With thousands of 5-star reviews and multiple industry awards, our products are full of features designed to make parenting easy.