Maxi Cosi Mico Plus Capsule
Maxi Cosi Mico Plus Capsule
$589.99 AUD
bundle and save
Combine your ROVER or DUO with a Maxi-Cosi Car Capsule to Save $130. Go to Build a Bundle to Learn More
0-6 months
Makes transporting your newborn a breeze. Both ISOFIX and Non ISOFIX available to suit any car.
Safety first
Air Protect Technology
The unique design acts like a soft cushion to absorb side impact crash forces, transferring the energy away from your child's head.
Ready for anything
All Weather Canopy
New sun and water resistant extended canopy protects your baby no matter the weather.
cool and comfortable
Cool Baby Moisture Wicking Fabric
Cool BabyTM wicking fabric allows air to flow in and draws moisture away from baby's skin
Wherever you go
Airplane Compliant
Certified to be Airplane compliant, you can take your new Mico Plus capsule wherever you go!
engineered to be easy
Magnetic Harness Holders
Magnetic harness holders ensure that straps are clear when placing baby in and out of the capsule
want to accessorise?
Our car capsule accessories offer families added flexibility, ensuring your baby's safety and comfort on every journey.
capsule specifications
frequently asked questions
Can't find what you're looking for? Our team are ready to help! Contact us here
The difference between ISOFIX and Non ISOFIX is the fitting system for the car capsule and the car. If the car capsule is Non ISOFIX it would be fitted with a car seat belt, if it uses ISOfix it would be clicked onto the car's ISOFIX anchorage points.
To find out if your car has Isofix points, look for ISOFIX labels between the base and back of your car seats (the fitting points themselves may also be visible) or check your vehicle's handbook or contact the manufacturer or dealer.
Capsules are generally used from newborn to around 6 months.
Capsule limits are based on your child's size, rather than age or weight, and have clearly defined shoulder height markers that will show you when your baby is readuy to move to a larger fixed car seat.
Simply press the ejection buttons located on each side of the capsule and pull the adaptor to remove.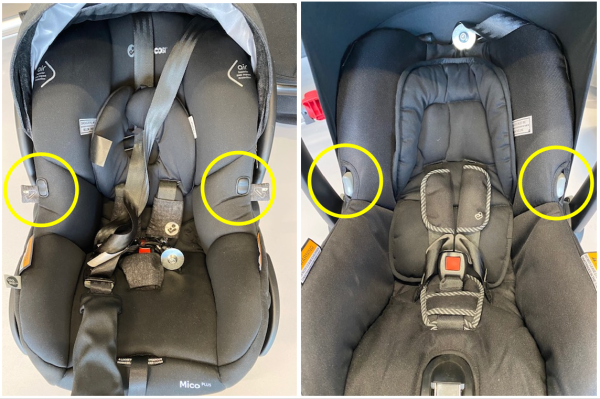 The Mico Plus is compatible with the ROVER and DUO.
You will need to purchase adaptors in order to use the capsule on either pram.