Choosing a travel pram that's right for you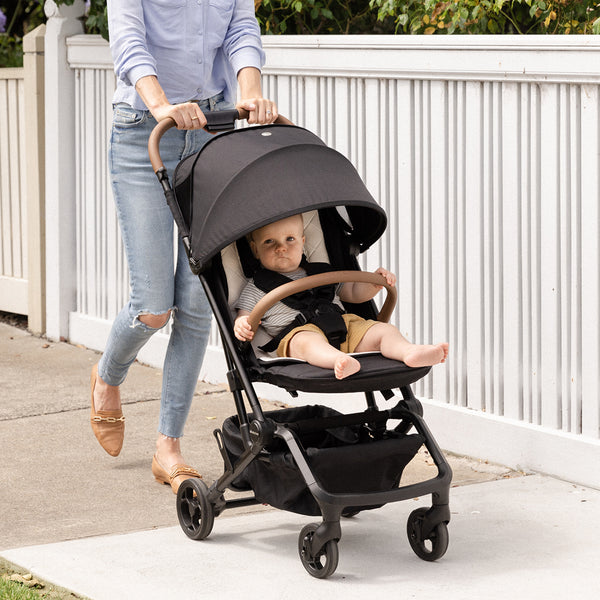 Whether you're a frequent traveller or planning your first getaway as a family, a travel pram is going to make your life a whole lot easier now that bub is in tow. 
There are a lot of options out there! So when it comes to choosing the right travel pram for you and your growing family, it helps knowing what to look out for. That's where we come in!
How does a travel pram work?
A travel pram is designed to be lightweight and compact, making it easier to pick up and carry around. It folds down small enough to fit into tight spaces like the overhead lockers on a plane, the back of a small hire car or on a peak hour train in a bustling city. 
A travel pram usually has fewer features than a normal pram, but it makes up for it in portability, which is exactly what you need when travelling with a little one. 
When does a travel pram come in handy?
Travel:
A travel pram is a no-brainer when you're, well, travelling. 
Folded down it's compact enough to fit in a plane overhead luggage compartment, making airport transfers an absolute breeze. Imagine not having to carry bub all the way through security and to the gate. 
Travelling with bub in a pram gives you more time to get out and explore, without having to worry about nap schedules or tired little feet. It even makes getting around easier as you can pack it down and pick it up when getting on and off busy buses and trains. 
At home: 
Outside of travel, you can use a travel pram day-to-day. Being compact means it also gives you much more space in the boot of your car, making the weekly grocery shop or next family road trip a whole lot easier. 
Handy for when you're out for coffee or lunch. It packs up nice and small so you can store it under the table or in the corner in a crowded cafe.
You can even leave the travel pram with the grandparents, or store it in your car as a back-up pram. 
How to choose a travel pram
Size: A travel pram needs to fold up small enough to fit into small spaces. Whether that's in the overhead lockers on a plane, under the table at a cosy cafe, or in the boot of the smaller than it looked online hire car. 
Portability: A travel pram has got to be portable, and when it comes to portability, the weight is an important factor. It should be light and compact enough that it's easy to pick up and carry around with one hand. It should come with a strap so you can carry it on your shoulder comfortably. If it folds down quickly at the touch of a button, even better. 
Easy to use: Look out for these features: 
It can fold down in one step, at the touch of a button

You can recline the seat with one hand

You can adjust the harness easily
Storage: Let's face it, babies come with a lot of stuff. You shouldn't have to compromise on storage space for a travel pram. Check the size of the basket to make sure you're maximising your load. 
Recline: Just ask any seasoned parent, and they'll tell you the pram can be an absolute saviour when bub is either refusing to nap at home, or you're out during nap time. A full recline makes napping on the go a whole lot easier – and it's much safer for infants. 
Sun protection: An important element to any pram hunt, how far does the canopy extend? Make sure it comes with an extendable canopy to protect bub from the sun's powerful rays. 
What makes the MILES so good?
This is why we designed the MILES. We needed a travel pram that didn't just travel well, but is also perfect for everyday use. We refused to compromise on the necessities. 
The MILES comes with all the good stuff: 
1 second, 1 hand fold

Weighs 6.9kg, making it incredibly lightweight

Comes with a generous sized basket 

Fully reclines to 180 degrees with an adjustable leg rest

Suitable for newborns

3 year warranty 
Note: Every airline has different regulations for prams in their overhead lockers, so we recommend checking with your particular airline before travelling.